What is PAINflex® Medical Therapy?
PAINflex® Medical Therapy is a 1st class Health Care product intended for people of all ages that enhances the immune system, activates cellular metabolism and improves the general state of the body. PAINflex® has excellent results in eliminating pain and illness and reliably helps with the following conditions:
Migraine
Osteoporosis
Rheumatism
Diabetes
The product is registered in Germany under the name of BIO PAINFLEX with German identification number PZN: 3567405. PZN number designates medicines, medical devices and other pharmaceutical products that are available for purchase in Pharmacies.
Pharmazentralnummer (PZN) - 3567405
Pharmaceutical Central Number
PAINflex® Certificates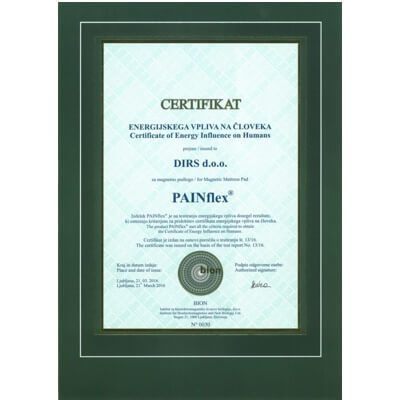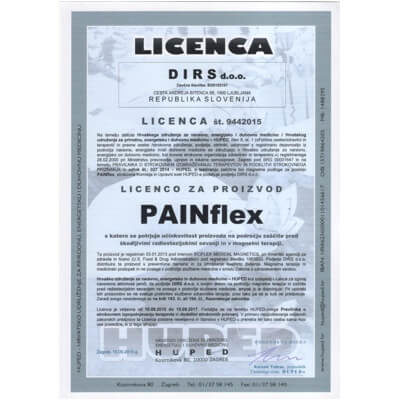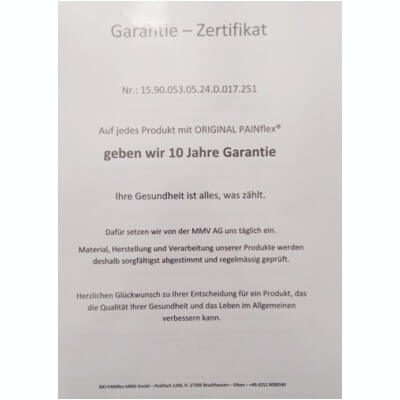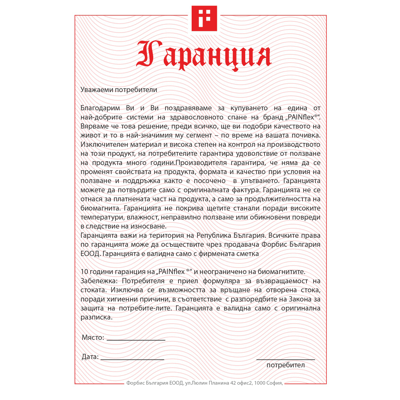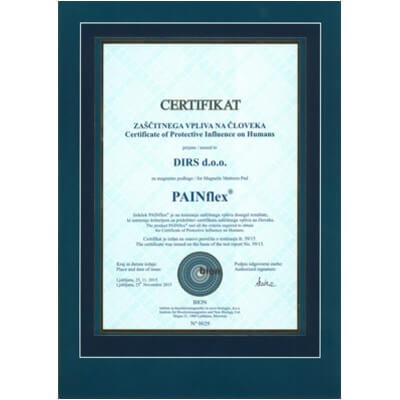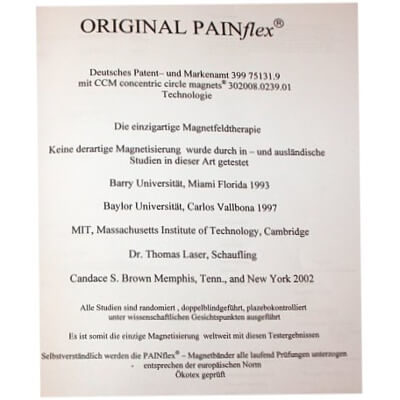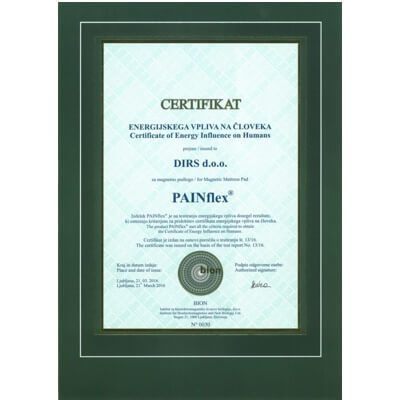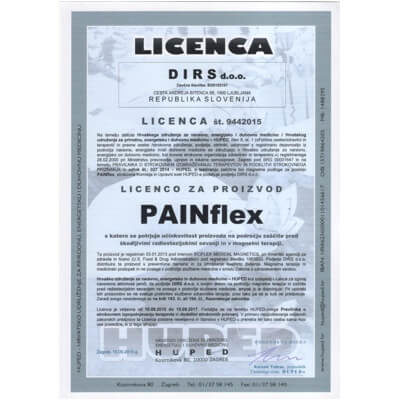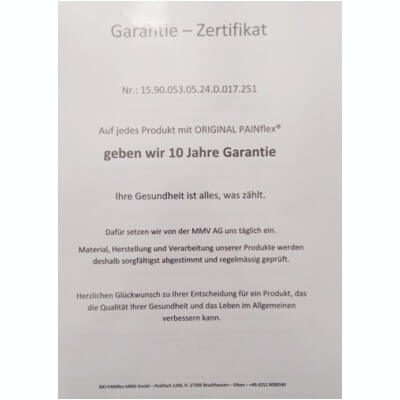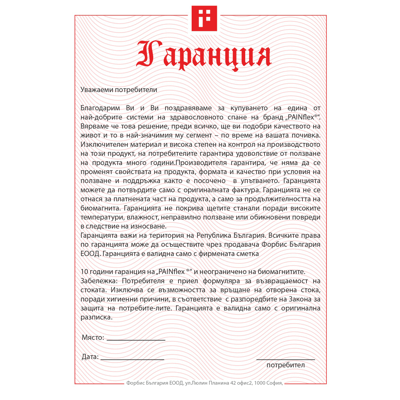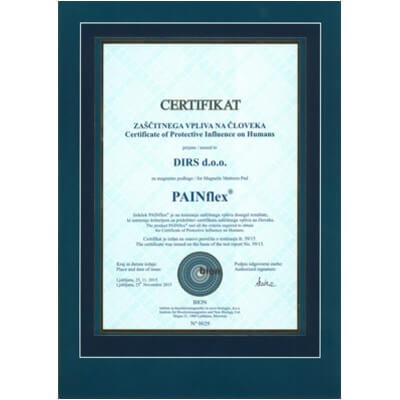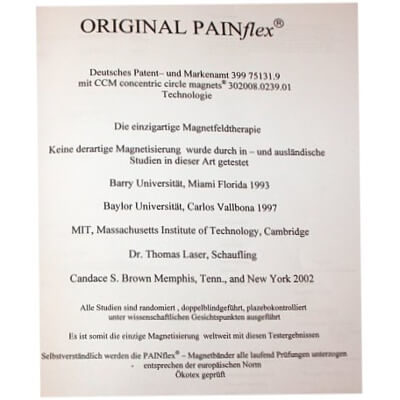 Serbia
Helvetia Produkte d.o.o.
Gostivarska 25
11000 Beograd
Switzerland
Forbis GmbH
Hungerstrasse 56
8832 Wollerau
Russia
FORBIS ooo
Marshala Zhukova d1s1
142191 Moscow
Croatia
HT Heim Trends ortopedija d.o.o.
Jaruščica 9e
10020 Zagreb
Egypt
Coming Soon
Stay Tuned
Slovenia
DIRS d.o.o.
Cesta Andreja Bitenca 68
1000 Ljubljana
Poland
Coming Soon
Stay Tuned
What our clients say
Преди да започна да използвам PainFlex, имах болки в ставите и гърба. След ежедневна употреба, забелязах драстични подобрения. Но най-хубавото е, че преди да започна да го използвам, имах големи проблоеми със заспиването. Сега, сънят ми е по-дълбок, по-качествен и дори след кратък сън, се чувствам по-добре на сутринта!
Jonas S., Швейцария
Толкова съм изненадана от това колко е добър този продукт. Използвам го редовно и резултатите са страхотни. Успокоява ме, регулира температурата на тялото ми, потушава главоболията и така нататък, и така нататък…. Толкова се радвам, че закупих един и за съпруга си. Подобри живота ни във всички сегменти. Благодаря Ви! Бих му дала 10 звезди, ако можех но съм ограничена само до 5!
Алина, Русия
Използвам биомагнитната терапия от шест месеца и ми помогна да подобря проблема с циркулацията ми. Главоболията спряха, кръвното ми налягане се нормализира и спрях да използвам болкоуспокоителни. Съпругът ми, който има проблеми с ревматизъм, понякога също я използва. Крайниците му не го болят вече и се движи по-добре. Доволна съм, че купих толкова добър продукт и бих го препоръчала на всеки.
Andja L., Хърватия
Събитието беше страхотно, научихме много нови и полезни ежедневни знания за живота. Всичко мина добре. Изпълнихте това, което обещахте.
Tjasa K., Словения
Slovenia
Искрено съм благодарна, защото Вашата компания ми даде бъзможността да изпробвам биомагнитната терапия, която е наистина чудесна. Досега харчех много за таблетки за главоболията ми. Откакто използвам този продукт, главоболията спряха и просто не мога да го повярвам. Споделям своя опит със семейството и приятелите ми винаги когато мога. Това е наистина вълшебен продукт, благодаря!
Stefica P., Хърватия
Croatia
I'm so surprised at how good this product is! I've been using it on regular basis and the results are great. It relaxes me, regulates my body temperature, relieves me from my headaches, and so on and on… It's so great that I bought one for my husband! It improved our lives in ALL segments! Thank you! I would give it 10 stars if I could, but I'm limited to only 5!
Aline, Russia
Before I started using PainFlex I had joint and back pains. With regular use I saw drastic improvement. But the best thing is that before I started using it I had big problems with falling asleep. Now, my sleeping time is deeper with better quality and even with less sleep I feel better in the morning!
Jonas S., Switzerland
I've been using the biomagnetic therapy for six months, and it helped me to resolve my circulation problems. Headaches stopped, blood pressure normalized, and I stopped using the painkillers. My husband, who has issues with rheumatism, occasionally use it as well and helps him. His joints don't hurt him anymore and he moves better. I am glad I bought such good product, and I would recommend it to everyone.
Andja L.
The event was great, we learned a lot of new and useful everyday life information. Everything went well. What you promised, you have fulfilled.
I'm sincerely thankful because your company gave the opportunity to try and biomagnetic therapy that genuinely wonderful. Until now, I was spending a load of tablets for my headache. Since I've been using this product, headaches have stopped, and I simply can't believe it. I share my experience with my family and friends whenever I can. This really miraculous product, thank you!
About us
We are Switzerland based company with its international presence specialized in 1st class Health Care products. Our knowledge, experienced team,  the best products and healthy solutions are our principals, enabling us for fast international expansion providing the impeccable service to our satisfied users.
Our approach to the matter distinguishes us from others. Our education seminars with a personal touch to each and every person build an unbreakable relationship with our users supported by reliable and most technologically advanced products.
We welcome anyone who cares about well-being, health and good and healthy sleep.